Owing to expanded Xbox Cloud access and Microsoft's new partnership with Epic Games, Fortnite has technically returned to iOS devices.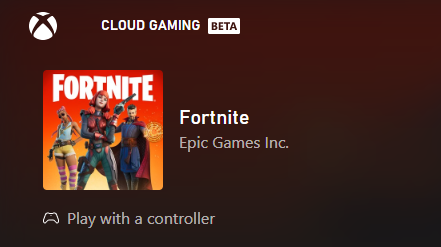 Fortnite is currently available for free via the Xbox Cloud Gaming beta in 26 countries, according to Xbox Cloud Gaming vice president and product head Catherine Gluckstein in a new blog post.
You can now play Fortnite in the cloud in a web browser without a download or membership. All you need is a Microsoft account and an Apple (or Android) device with internet connectivity. It's also accessible via Windows PCs. However, using this method to play Fortnite on Windows is pointless, as Fortnite is already quite simple to install on the OS.
Also read How to join Alpha test of Rainbow Six Siege Mobile
Epic's lawsuit against Apple, which followed an ugly fight over App Store regulations and payment methods, resulted in the removal of Fortnite from Apple platforms in 2020. This was when Epic irritated Apple by allowing Fortnite gamers to purchase V-Bucks directly rather than through the tech giant's storefront. Fortnite was instantly removed from Apple's App Store, and the Google Play Store followed suit.
Epic's case was eventually supported by Microsoft, which focused on Apple's decision to prevent Epic from updating its Unreal Engine for iOS devices. Microsoft has repeatedly criticized Apple's store terms and conditions, particularly in relation to streaming services such as the Xbox Cloud.
You might want to know that FIFA 22 is currently testing new cross-play feature
With this partnership, Xbox has made Epic's most popular game free and playable on Apple devices once more, completely bypassing the App Store and even preempting a newly proposed EU law that would give iOS users more control over their devices and allow them to side-load games like Fortnite back onto the platform.
According to Gluckstein, this marks the beginning of Xbox Cloud Gaming's next project. He concluded by saying that Xbox will aim to offer more free-to-play games consumers love in the future.
To help you get up to speed when you get back on the game, see our previous post about How to Get Chica outfit for free in Fortnite Island Fun Run.